Calvet DC
Temperature, Heat & Heatflow, and Heat Capacity measurements up to very high temperatures.

For Capable Drop Calorimetry
Like other calorimeters in the CALVET line, CALVET DC uses sensors based on thermocouples' networks.
The interchangeable sensors are designed to apply either the DSC or the drop calorimetry method.
Drop calorimetry consists of letting a sample fall (at room temperature) into the sensor (at high temperature).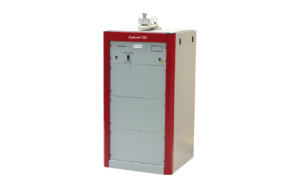 Applications
You can use DSC or drop calorimetry to measure heat capacity, heat content, or heat of dissolution and formation. CALVET DC applies mostly to such characterizations with metals, alloys, glass and ceramics.
Why is it Unique?
IMPROVED HEAT CAPACITY AND HEAT MEASUREMENTS

with Calvet 3D sensor based on thermocouples

HIGH TEMPERATURE MEASUREMENTS BY DROP CALORIMETRY

for accurate heat capacity, and heat content measurements

CONVENIENT AUTOMATED SAMPLE CHARGER

for multiple successive drops

HIGH TEMPERATURE MEASUREMENTS BY HEAT FLUX DSC

for accurate heat capacity, heat of phase transitions, and glass transition measurements

ISOTHERMAL OR TEMPERATURE SCANNING CONDITIONS

up to 1500 °C or 1600 °C
Documentation
Access the most relevant documents about our solutions and their use.
Application notes
Specifications
Request a quote for Calvet DC
Access premium documentation
Benefit from detailed application information