Your Flexible Air Cooled Chiller
FLEXI CHILL is an air cooled chiller.
It flows cooling water to your system by the use of a robust centrifugal pump.
The water is cooled down using a simple heat exchangers and air fans combination.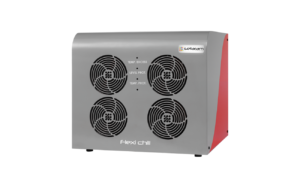 Applications
Thanks to its easy and standard connection system, it is used in many fields. It includes the cooling of low power lasers, cutting or engraving machines, welding machines, or UV photo printers. It is also used in laboratories to cool down analytical instruments and other equipment.
Why is it Unique?
POWERFUL AIR COOLED CHILLER FOR MULTIPLE LABORATORY OR INDUSTRIAL APPLICATIONS

Finest design of heat exchangers and cooling fans for high cooling power capabilities

PLUG & PLAY, SIMPLICITY, EASY SETTINGS

Effortless use with no temperature settings
Limited maintenance with no refrigerant circuit, i.e. no leaks and potential environmental problems
Fast connection to various systems or instrumentation

ROBUST DESIGN

developed in Switzerland by our research and innovation team and CE marked
Documentation
Access the most relevant documents about our solutions and their use.
Request a quote for Flexi Chill
Access premium documentation
Benefit from detailed application information