Your Flexible Wet Gas Generator up to 50 ml/min
FLEXI WET is based on the simple principle of mixing a dry gas line and a wet gas line.
It uses mass flow controllers, a temperature controlled mixing chamber, and a relative humidity probe.
The outlet gas temperature, relative humidity, and flow rate are integrated in a control loop.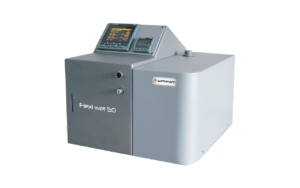 Applications
With FLEXI WET, you can check how humidity affects the properties of energetic materials, polymers, pharmaceuticals, food, building materials, thermal energy storage materials, metals and alloys, etc. You can connect FLEXI WET to laboratory instruments or climate chambers.
Why is it unique?
HIGH VERSATILITY AND ACCURACY

for multiple laboratory or industrial applications.
Accurate control of wet conditions.
From simple setpoint to sophisticated programming.
Operation with various gases


PLUG & PLAY, SIMPLICITY, EASY SETTINGS

Easily transportable
Simple connection system to any laboratory instruments or climate chambers
Simple and convenient user interface

Documentation
Access the most relevant documents about our solutions and their use.
Request a quote for Flexi Wet 50
Access premium documentation
Benefit from detailed application information