Themys
For the most challenging Temperature, Mass Variation, Heat & Heatflow,
Dimensional variation and Evolved Gas measurements.

THEMYS is the benchmark for versatile thermal analysis platforms.
It is designed to offer the best experimental control, quality results, and ease of use.
It is available in TGA, DTA, DSC, STA, EGA and TMA versions, with interchangeable modules.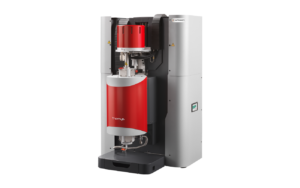 Applications
THEMYS covers most of the applications in the Energy & Environment and Inorganic Materials fields. It is especially suited to thermal stability testing, composition analysis, phase diagrams, and solid-gas reactions.
Why is it Unique?
ULTRA-HIGH TEMPERATURE CAPABILITY

to 2400°C with a single furnace

VARIETY OF ATMOSPHERE CONDITIONS

multiple carrier and reactive gas options

HIGH ACCURACY & VERSATILE

hang-down symmetrical beam balance specifically designed for TGA applications

ACCURATE AND SENSITIVE

tri-couple DTA technology

MODULAR ADAPTATIONS

up to 2400 °C: TGA, DTA, TG-DTA, TMA up to 1600 °C: DSC, TG-DSC

EXTERNAL COUPLING CAPABILITY

with evolved gas analyzers (FTIR, MS, GCMS, MSFTIR, or FTIR-GCMS)
Documentation
Access the most relevant documents about our solutions and their use.
Request a quote for Themys
Access premium documentation
Benefit from detailed application information