Convenient and accessible solution for adiabatic testing
TAC-500 AS belongs to the category of Accelerating Rate Calorimeters.
They are dedicated to study reactions under adiabatic (no heat loss) conditions.
TAC-500 AS searches carefully for the decomposition of a sample while increasing its temperature stepwise.
It is equipped with pressure resistant cells and pressure sensors.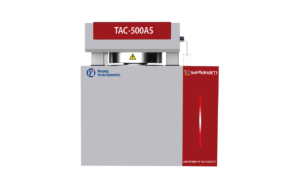 Applications
Adiabatic conditions are quite realistic for large plant vessels that lose heat slowly. As such TAC-500 AS applications are related to process safety. It answers questions such as: what temperature can be reached if control of a reactor is lost ? How quickly can this temperature be reached? Are there extra risks linked with pressure increase?
Why is it unique?
FAST TRACK RATE

Good measurement accuracy even at lower phi factors

LOW ONSET TEMPERATURE

Detection threshold

PRACTICAL BENCH TOP INSTRUMENT

A compact design for lab space efficiency and easier maintenance

CONVENIENT TO USE

Good usage to maintenance time ratio

ACCESSIBLY PRICED

Instrument and replacement parts
Documentation
Access the most relevant documents about our solutions and their use.
Request a quote for TAC 500 AS
Access premium documentation
Benefit from detailed application information