Themys Duo
For the highest accuracy Mass Variation measurements, together with Temperature, Heat & Heatflow and Evolved Gas measurements.

Your Versatile Platform, with dual furnace
THEMYS DUO's mass variation performances come from a unique balance design.
It continuously measures the mass difference between a sample and an inert reference material.
They are placed in the same temperature and atmosphere conditions, in two distinct but identical furnaces.
It leads to near-zero signal drift (or buoyancy effect) so to the most accurate mass variation measurements.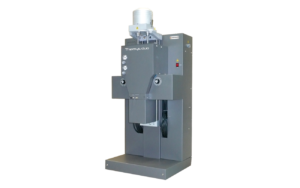 Applications
THEMYS DUO's applications are focused on the most demanding mass variation measurements of gas-solid reactions. They include the oxidation of metals and alloys and the stoichiometry (oxygen/metal ratio) of oxides.
Why is it Unique?
ULTRA-HIGH TEMPERATURE CAPABILITY

to 1750 °C with the same dual furnace

HIGHEST ACCURACY WITH ITS HANG-DOWN SYMMETRICAL BEAM BALANCE

eliminate drift & buoyancy effect, improve gas/sample interaction

MODULAR ADAPTATIONS ALLOWING

up to 1750 °C: TGA, DTA, TG-DTA up to 1600 °C: DSC, TG-DSC

ACCURATE AND SENSITIVE

Tri-couple DTA technology

VARIETY OF ATMOSPHERE CONDITIONS

multiple carrier and reactive gas options

EXTERNAL COUPLING CAPABILITY

designed for evolved gas analyzers (FTIR, MS, GCMS, MSFTIR, or FTIR-GCMS)
Documentation
Access the most relevant documents about our solutions and their use.
Application notes
Specifications
Request a quote for Themys Duo
Access premium documentation
Benefit from detailed application information