Your Flexible High Pressure control system up to 200 bar
FLEXI HP 200 can keep the pressure inside a system to a value.
It uses a passive pressure control principle.
It is simply based on the difference between its internal 300mL buffer tank and the system's smaller volume.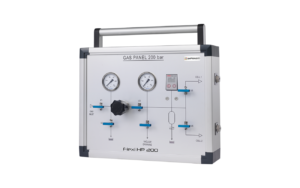 Applications
Most applications that need simple and robust pressure control of small volumes. It includes fields like polymer, oil & gas, hydrogen storage or food materials characterization.
Why is it Unique?
CAPABLE AND ROBUST HIGH PRESSURE CONTROL SYSTEM

Robust design able to fit with most pressure control needs of small systems
Can control pressure of two systems simultaneously

PLUG & PLAY, EASY AND SAFE

Convenient and reusable metallic tubing connection
Easy operation, manual valves and pressure reducer
Handle for easy transportation between usage locations
Equipped with an emergency relief system (rupture disk) to avoid uncontrolled overpressure
Documentation
Access the most relevant documents about our solutions and their use.
Specifications
Technical notes
Request a quote for Flexi HP 200
Access premium documentation
Benefit from detailed application information