Your Versatile Platform for High Pressure conditions
THEMYS HP is a specific, pressure-rated TGA.
It combines a high temperature furnace and a hang down balance for the best mass variation measurement accuracy.
It controls pressure accurately thanks to a dual back pressure regulating device.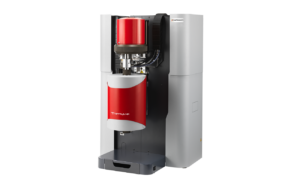 Applications
THEMYS HP applies to pyrolysis, combustion, or gasification studies. It simulates processing conditions of coal, biomass or waste to energy processes. It is also designed for high temperature and pressure oxidation studies of metallic alloys.
Why is it Unique?
HIGH TEMPERATURE AND HIGH PRESSURE CAPABILITY

up to 1200 °C and 150 bar with a single furnace, to replicate real process conditions

HIGH ACCURACY & VERSATILITY

hang-down symmetrical beam balance, specifically designed for TGA applications
• continuously measures sample mass variations
• drastically limits the TGA signal background noise and reduces drift
• improves gas/sample interaction

BUILT-IN SAFETY

compliant with European Pressure Equipment Directive 2014/68/EU – group 2 gases (non-explosive, non-flammable, non-toxic)
Documentation
Access the most relevant documents about our solutions and their use.
Application notes
Specifications
Request a quote for Themys HP
Access premium documentation
Benefit from detailed application information