High Pressure. High Accuracy
GASPRO is a fully automated solution for High Pressure gas sorption.
It injects gas doses of increasing pressure on a sample and measures the quantities of sorbed gas. Ab-, ad- and de- sorption can be characterized.
It uses the finest technology HP valve, pressure sensor, and pressure regulators.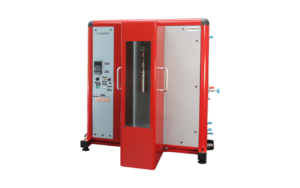 Applications
GASPRO measures isotherms, kinetics, and cycling capacity. It is ideally suited for Energy & Environment applications. It includes the characterization of hydrogen storage materials, of CO2 capture and sequestration materials, of geological substrates, and of other porous solids. It can be coupled to calorimetry or other instrumentation like our FLEXI HP MS for gas analysis.
Why is it Unique?
WIDE TEMPERATURE RANGE ENABLING A VARIETY OF APPLICATIONS

from sub-ambient operations up to 500+ °C with a customized solution

VARIETY OF MODES OF OPERATION

ability to combine PCT, kinetics and cycle-life modes to 200 bar to determine the quantity and rate of sample/gas interaction and its ageing characteristics all in one instrument and operation

HIGH ACCURACY

to reduce cumulative error accross multiple measurement points

PRECISION MEASUREMENT OF SMALL SAMPLES

using the patented microdoser option (US8132476)

EXTERNAL CALORIMETER COUPLING CAPABILITY
Request a quote for Gaspro
Access premium documentation
Benefit from detailed application information