Your High-Pressure Hydrogen Delivery System
FLEXI HyCo is a high-pressure hydrogen delivery system for laboratory use.
It is based on the patented technology of metal hydride compressor.
It can supply ultra pure hydrogen up to 200 bar from a lower pressure source like an electrolyser or a low-pressure gas line.
This way, it avoids risks and limitations linked with using very high-pressure hydrogen cylinders.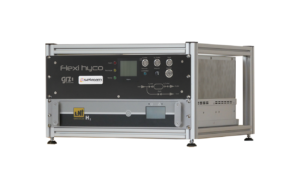 Applications
FLEXI HyCo is the perfect accessory for laboratories that require experimentation under hydrogen. It is especially true for the characterization of hydrogen storage materials, of some catalysts, sorbents, metals or for hydrogenation studies. FLEXI HyCo can simply be connected to our GASPRO, CALVET or CALVET PRO. It can also be connected to any device or reactor requiring operations under hydrogen pressures below 200 bar.
Why is it Unique?
COMPACT HP HYDROGEN DELIVERY SYSTEM

Compresses hydrogen from a low-pressure line or an optional, integrated electrolyser.
Delivers ultra pure H2 at a set pressure up to 200 bar (2900 psi).


ROBUST AND PATENTED DESIGN

Stores and releases hydrogen from a metal hydride bed.
Operates without moving parts: silently, vibrationless, safely and without maintenance.


PLUG & PLAY, EASY AND SAFE

Easy manual operation, no time-consuming setup is required.
Avoids the use of high-pressure hydrogen cylinders in your lab, greatly facilitating operations and increasing safety
Safe by design and CE approved.

Documentation
Access the most relevant documents about our solutions and their use.
Request a quote for Flexi Hyco
Access premium documentation
Benefit from detailed application information