Calvet Pro
Versatile and High Accuracy Temperature, Heat & Heatflow, Heat Capacity, Mass Variation and Evolved Gas measurements.

For Capable Calorimetry, with small samples
CALVET calorimeters have their 3D sensors in common.
They are made of a thermocouples' network surrounding the measurement cells. Basically, no heat is lost during measurements.
CALVET PRO is designed to test mg scale samples over a large temperature range, with many interchangeable cells and crucible options.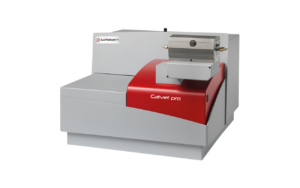 Applications
With CALVET PRO you can characterize most materials for Energy and Environment. It includes more particularly catalysts and sorbents. Its High Pressure options are also used to test hydrogen storage materials, energetic materials, and for Process safety evaluations. Its excellent Cp measurement accuracy is beneficial for most material characterization.
Why is it Unique?
HIGHEST HEAT MEASUREMENT ACCURACY

Calvet 3D sensor based on thermocouples with Joule effect calibration

HIGHEST MASS VARIATION ACCURACY

with its optional Hang-down Symmetrical Beam Balance

ISOTHERMAL OR TEMPERATURE SCANNING MODES

for increased flexibility and replication of real life conditions from -120°C up to 830°C

CONVENIENT INTERCHANGEABLE CRUCIBLES AND CELLS

to perform even the most demanding experiments
using one instrument :
• high pressure (up to 500 bar) and high vacuum
• pressure resistance, measurement or control
• packed bed reactor experiments
Documentation
Access the most relevant documents about our solutions and their use.
Request a quote for Calvet Pro
Access premium documentation
Benefit from detailed application information