Themys H2
For Secured Temperature, Mass Variation, Heat & Heatflow, Evolved Gas measurements under hydrogen atmosphere.

Your Platform for Safe Experiments under Hydrogen
THEMYS H2 is dedicated to materials characterization under hydrogen.
You can use it for TMA, TGA or STA measurements. It integrates many safety systems.
The main one is the combination of a hydrogen and an oxygen probe to avoid accidental blending of these gases in the instrument.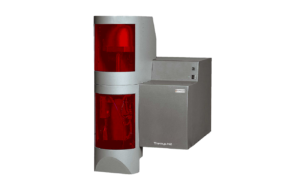 Applications
THEMYS H2 applies to any material characterization under hydrogen atmosphere. It ranges from the characterization of hydrogen storage materials, to the reduction of oxides. It can also simulate the conditions of powders processing, like metal injection molding.
Why is it Unique?
ULTRA-HIGH TEMPERATURE CAPABILITY

to 1750°C with a single furnace

MULTIPLE BUILT-IN SAFETY SYSTEMS

for instrument and user's secured operations

HIGH ACCURACY & VERSATILE

hang-down symmetrical beam balance specifically designed for TGA applications

VERY HIGH TEMPERATURE DTA

technology up to 1750°C

EXTERNAL COUPLING CAPABILITY

to 1000 °C with Mass Spectrometers
Documentation
Access the most relevant documents about our solutions and their use.
Application notes
Specifications
Request a quote for Themys H2
Access premium documentation
Benefit from detailed application information