Your Flexible High Pressure Mass Spectrometer
FLEXI HP MS is based on standard elements like a turbomolecular pump and a quadrupole mass spectrometer (MS).
It also features a proprietary dosing system able to sample gas at high pressure.
The sample is then depressurized and analyzed.
It can also operate in the flow mode like any other mass spectrometer.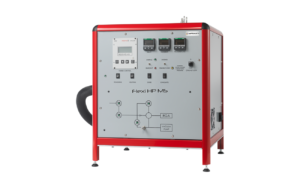 Applications
The fields of application of FLEXI HP MS are wide. It can analyze gases at-line in systems like reactors, laboratory instruments or climate chambers. So it can be useful in application fields like energy & environment. It includes hydrogen storage materials, catalysts characterization or oil & gas fields.
Why is it Unique?
REAL-TIME ANALYSIS OF GAS COMPOSITION AT HIGH PRESSURE

It uses a quadrupole mass spectrometer including
a proprietary gas dosing manifold for gas sampling from vacuum to 200 bar
a standard gas flow mode for continuous gas sampling at atmospheric pressure

PLUG & PLAY, EASY SETTINGS

capable of being connected to third party instruments, reactors or to climate chambers
virtually avoids gas condensation before detection using a temperature controlled transfer line
6 modes available for enhanced control of scans and data
Documentation
Access the most relevant documents about our solutions and their use.
Request a quote for Flexi HP MS
Access premium documentation
Benefit from detailed application information