Microcalvet Ultra
Highest Sensitivity and Accuracy Temperature, Heat & Heatflow, and Heat Capacity measurements.

For Superior Sensitivity, up to higher temperatures
MICROCALVET ULTRA's 3D sensor uses the latest technology of Peltier elements.
Combined with its electrical calibration, it is highly accurate and ultrasensitive.
Its heating and cooling system is as easy to use and flexible as the MICROCALVET's one, and it can reach higher temperatures.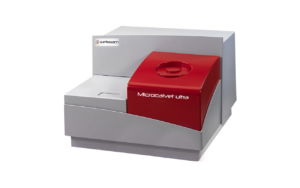 Applications
Typical MICROCALVET ULTRA applications are in life science and polymers fields. Its high sensitivity can detect most microwatt level transitions in biomolecules, food materials, or polymer solutions. Its cells are removable, cleanable and interchangeable. It is ideal whenever gels or solid particles may be present or appear during the experiment.
Why is it Unique?
HIGHEST HEAT MEASUREMENT ACCURACY

3D sensor based on Peltier elements with Joule effect calibration

MODIFIABLE TEMPERATURE CONDITIONS

for increased flexibility and replication of real life conditions between -20 and 170°C

CONVENIENT INTERCHANGEABLE CRUCIBLES AND CELLS

to perform even the most demanding experiments using one instrument :
• high pressure (up to 400 bar) and high vacuum, pressure measurement and control • mixing experiment

EXTERNAL COUPLING CAPABILITY

designed to increase your research options including manometry, BET instrumentation, gas analyzers, humidity controllers and gas panels
Documentation
Access the most relevant documents about our solutions and their use.
Request a quote for Microcalvet Ultra
Access premium documentation
Benefit from detailed application information