Themys One / One +
For accessible and high throughput Temperature, Mass Variation, Heat & Heatflow, and Evolved Gas measurements.

Your Entry to Versatility
THEMYS ONE / ONE+ is an accessible, user friendly and robust thermal analysis platform.
It has easily exchangeable rods for running diverse measurements with the same instrument.
The THEMYS ONE+ offers hours to days of unattended operations with its auto-sampler.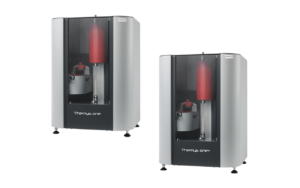 Applications
THEMYS ONE / ONE+ covers most of the applications in the Polymers and Inorganic materials fields. It also performs well for testing catalysts, batteries or fossil fuels. It rapidly and reliably measures the thermal stability and composition of materials.
Why is it Unique?
HIGH TEMPERATURE CAPABILITY

with the convenience of ONE FURNACE to reach temperatures as high as 1150 or 1600 °C

HIGH SENSITIVITY BALANCE FOR THE DETECTION OF SMALL MASS VARIATIONS

specifically designed for TGA analysis

PLUG AND PLAY INTERCHANGEABLE RODS

to perform TGA, TG-DSC, TG-DTA, and 3D high sensitivity calorimetry / Cp measurements

EXTERNAL COUPLING CAPABILITY

evolved gas analyzers (FTIR, MS, GC/MS, MSFTIR,or FTIR-GC/MS)

32 POSITION AUTOSAMPLER

on the THEMYS ONE+
Documentation
Access the most relevant documents about our solutions and their use.
Request a quote for Themys One / One +
Access premium documentation
Benefit from detailed application information